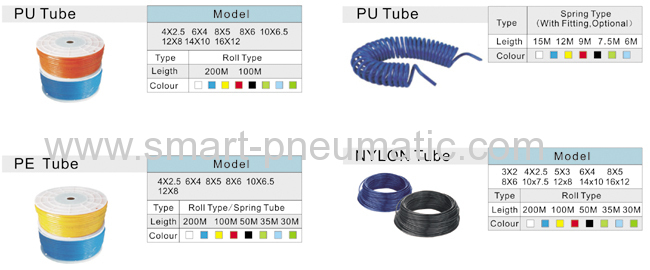 100% brand new Polyurethane Tubing. Also called PU tubing for Pneumatic industry robot.
Polyurethane PU Tubing Feature:
1. Flexibility of Polyurethane tubing is still good under very low temperature, good elasticity.
2. Pretty high intensity, abrasion resistant and long service life, Small bending radius.
3. Light weight, high grade of transparency, anti-corrosion on partly chemical material, New products have hydrolysis resistant on Ether based PU air hose.
4. The working temperature -20 to +70 degree.
5. Inner Wall of Polyurethane tube is very smooth for transport.
6. Hardness 95± 2A, 98± 2A
7. PU hose is environmental material, our PU tube reach SGS standards!
8. PU tube / Pneumatic tubing are Widely used in Pneumatic automation system, Air tools.
9. Pneumatic fittings, NPT /BSPT fittings, Swivel coupler, Miltom type quick coupler are all available on our polyurethane PU spiral hose.
10. Size: OD4mm*ID2.5mm, OD6mm*ID4mm, OD8mm*ID5mm, OD10mm*ID6.5mm, OD12mm*ID8mm, OD14mm*ID10mm, OD16mm*ID12mm.
Other Clear Yellow, Clear Green, Clear Orange of Pneumaic TPU hose are acceptable for OEM serice,
company frofile
Our company is specialized in manufactuing all kinds of valves,hydro-pneumatic components,alumium parts and plastic parts.Our main products are including pneumatic cylinder,solenoid valve,air filter,air regulator,air lubricator,pneumatic fitting,hydraulic fitting,tubes etc.as below;
*ISO Standard Cylinder:DNC/SI(ISO6431&6432)
*Standard Cylinder:SC/SU,
*Mini Cylinder:MAL,MA,,MI,CJ2B,CDM2B
*Compact Cylinder:SDA,CQ2
*Cylinder:CU,TN,STM,MGP
*Solenoid Valve:3v1,3v,4v,4M,3A,4A ,etc
*Air Source Treatment Unit:A,HA,HNA,T,A/B,etc
*pneumatic accessories:fitting,hand valve,muffler,tube,pressure switch
Payment and shipment
payment:T/T
shipment:by sea ,air
Pls be free to contact with us for details
NINGBO SMART PNEUMATICS' sprit:
we will give you the best quality, the competitive price, the quick delivery, the perfect service. Our goal to customers is "Always Smart Solution for your Automatic System."