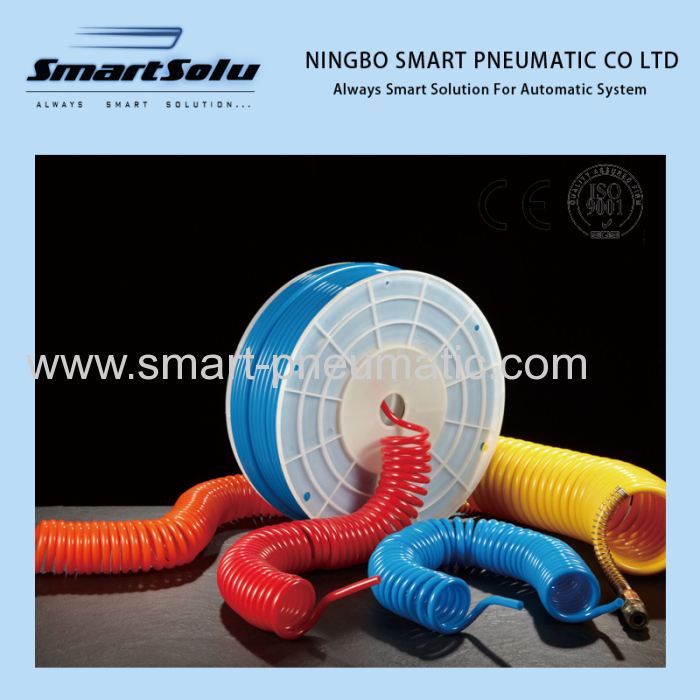 PU COIL HOSE

Characteristic:
1. Has excellent flexibility, the bevelling radius is small; Good anti-knocking operating temperature and the working pressure scope is wide.
2. Has the excellent chemical properties, the pressure loss is minimum; Degree of hardness is consant, the service life is long.
3. Non-toxic, tasteless.
4. Custom-made color is doable, easy pipeline recognition.
5. Conform to the RoHS environmenal proection requirement.
Product Use:
6. Industry robot, pneumatic tool, assembly plant air pressure tool, the duct with pressure.
7. Transport water and other liquid.
8. May be used as the vacuum sucker.
9. Metal and electronic products protection coat.
10. Ornament (for example handle and so on).
Temperature Range: Approximately-20 to+70.
Specification: Outer diameer range 1.5mm~35mm.


Application: Used in automotive Air brake.
Spiral hose can be used in all air brake system, also for air tools;
Straight tube can be used for transmitting hot water, air, fuel, oil and other liquids etc.;
Any off standard size can be offered.
Material: PA-11, PA-12
Application: Used between principal machhine and trailer
(1)Without cables:
Tube connection: Union nut M18*1.5
(2)With cables: SFA125CE, SFA 155CE
Metal Plugs: 24N. 12N
Seven Cables: Blue, Green, Yellow, Black, Brown, Red and White.
| | | | | | | |
| --- | --- | --- | --- | --- | --- | --- |
| Tube Mark | Cable Mark | Laps | Working Length(m) | Sprial O. D(mm) | Stright Length(mm) | Tube Size(mm) |
| QS-15 | QSD-15 | 15 | 2.5 | 90 | 150 | Φ 12*1.5 |
| QS-18 | QSD-18 | 18 | 3.0 | 90 | 150 | Φ 12*1.5 |
| QS-20 | QSD-20 | 20 | 3.25 | 90 | 150 | Φ 12*1.5 |
| QS-22 | QSD-22 | 22 | 3.5 | 90 | 150 | Φ 12*1.5 |
| QS-24 | QSD-24 | 24 | 3.75 | 90 | 150 | Φ 12*1.5 |
| QS-26 | QSD-26 | 26 | 4.0 | 90 | 150 | Φ 12*1.5 |
| QS-30 | QSD-30 | 30 | 4.5 | 90 | 150 | Φ 12*1.5 |
| QS-40 | | 40 | 8.0 | 200 | 200 | Φ 16*1.5 |
| QS-100 | | 100 | 6.0 | 55 | 100 | Φ 8*1.5 |