DETAILS ABOUT CY1 TYPE OF AIR CYLINDER, PNEUMATIC CYLINDER, ACTUATOR

MODEL DETAILS:

BASIC MODEL:C(D)Y1S 25H-100(B)

CY1B 10H-50

D STANDS FOR MAGNETIC,CAN WITH OR WITHOUT

THERE ARE TWO MODELS:BASIC TYPE:CY1B

WITH SLIDE BAR:CY1S

STROKE CAN BE 50~1000

MAX STROKE FOR CY1B TYPE IS:300~2000

CY1S TYPE IS:300~1500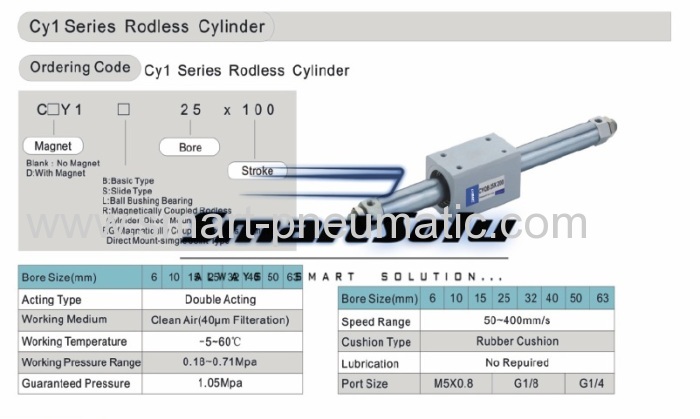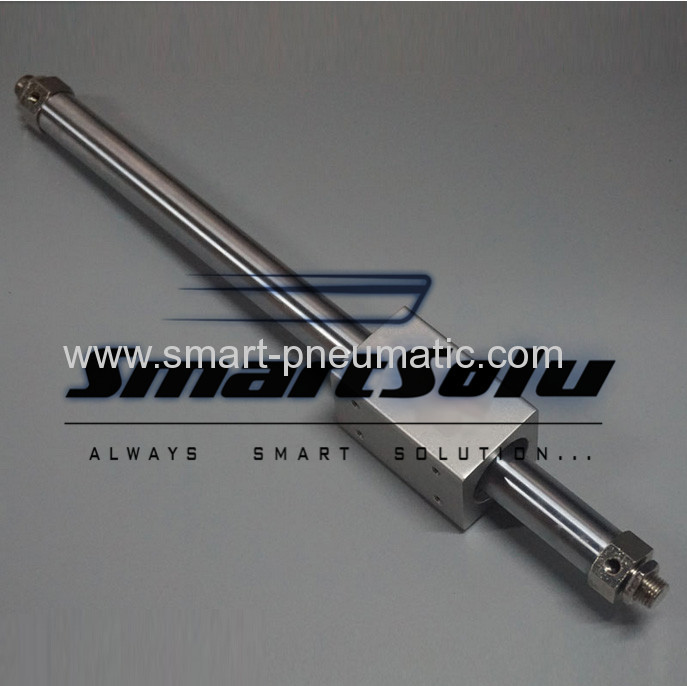 Features of Cy1 Series Rodless Pneumatic Cylinder:

Bore Size(mm)

6

10

15

25

32

40

50

63

Acting Type

Double Acting

Working Medium

Clean Air

Working Temperature

-5~60º C

Working Pressure Range

0.18~0.71Mpa

Guaranteed Pressure

1.05Mpa

Speed Range

50~400mm/s

Cushion Type

Rubber Cushion

lubrication

No Required

Port Size

M5*0.8

G1/8

G1/4


Product Description:
Cy1 sereis is a rodless cylinder and buffer effect is good because of both ends with rubber buffer. this cylinder is self-lubrication and is not to add lubricating oil. It often is used in the machinery industry.
Ningbo Hyland Pneumatic Company is manufacture and sales for the integration of enterprises. Not we introduct the advancing technology to go on manufacture, but also we pay attention to use technology resear-ch and development innovation.
The site of industry about our company is lie in XIKOU,NINGBO where many manufacturer producing pne- umatic components gather in so we can call it as the original place of the cylinders.
company frofile
Our company is specialized in manufactuing all kinds of valves,hydro-pneumatic components,alumium parts and plastic parts.Our main products are including pneumatic cylinder,solenoid valve,air filter,air regulator,air lubricator,pneumatic fitting,hydraulic fitting,tubes etc.as below;
*ISO Standard Cylinder:DNC/SI(ISO6431&6432)
*Standard Cylinder:SC/SU,
*Mini Cylinder:MAL,MA,,MI,CJ2B,CDM2B
*Compact Cylinder:SDA,CQ2
*Cylinder:CU,TN,STM,MGP
*Solenoid Valve:3v1,3v,4v,4M,3A,4A ,etc
*Air Source Treatment Unit:A,HA,HNA,T,A/B,etc
*pneumatic accessories:fitting,hand valve,muffler,tube,pressure switch
NINGBO SMART PNEUMATICS' sprit:
we will give you the best quality, the competitive price, the quick delivery, the perfect service. Our goal to customers is "Always Smart Solution for your Automatic System."