Order code for 4V200 SeriesSolenoid Valve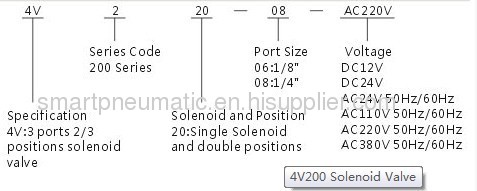 Specifications for 4V200 Series Solenoid Valve

Model

4V110-06

4V220-08

4V320-10

4V420-15

Position number

5Ports 2 positions

Effective sectional area

12mm2
(Cv=0.67)
16mm2(Cv=0.89)
30mm2(Cv=1.76)
50mm2(Cv=2.79)

Port size

1/8"

Supplyport=Cylinder port=1/4" Exhaust port=1/8"

Supplyport=Cylinder port=3/8" Exhaust port=1/4"

1/2"

Fluid

Clean Air

Action Style

Internal pilot

Working pressure range

0.15-0.8Mpa

Proof pressure

1.2Mpa

Ambient temperature

-5~50℃

Voltage change range

±10%

Power consumption

AC380V:2.5VAAC220V:2.0VAAC110V:2.5VAAC24V:3.5VA
DC24V:3.0W DC12V:2.5W

Insulation and Protection

IP65

Frequency

5/s

Response time

0.05sec

Overall Dimension for 4V200 Series Solenoid Valve (mm)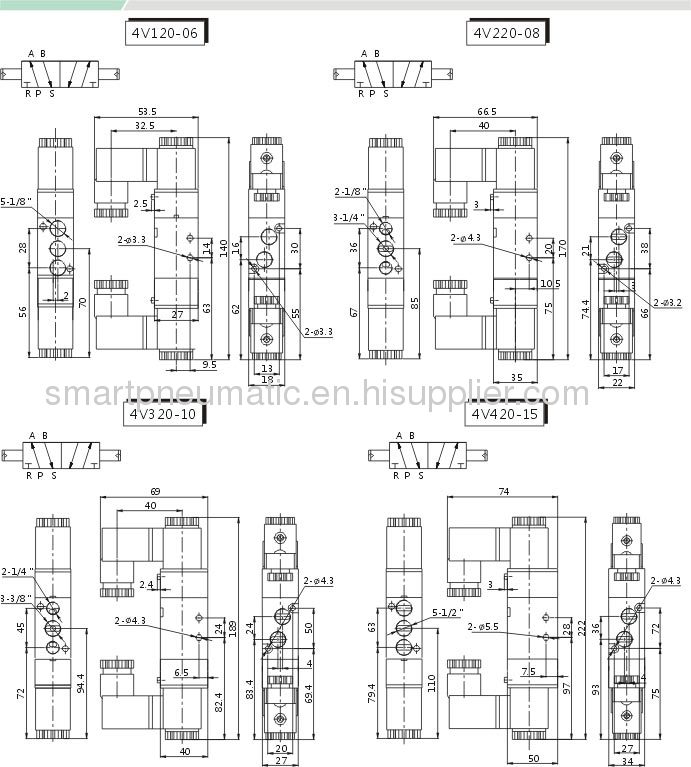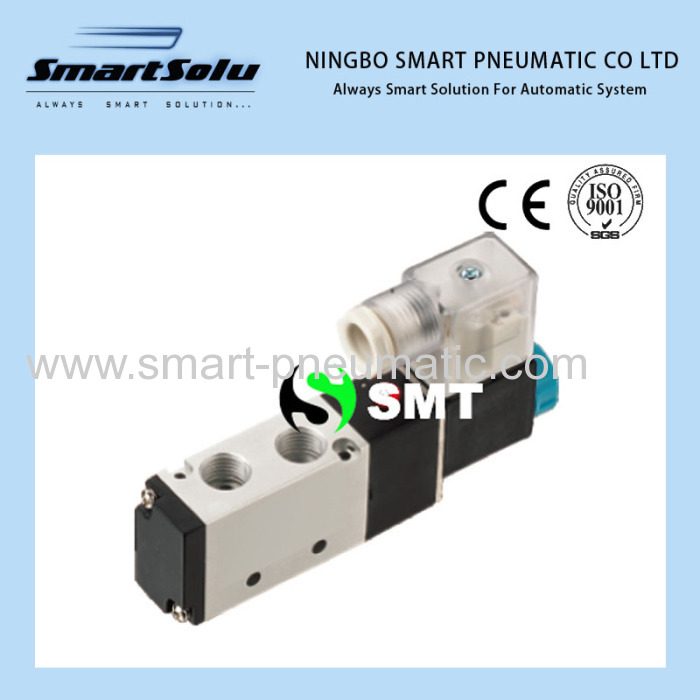 Solenoid Valve Maintenance Notice:
1.Be sure to check up the valve before installation.
2.Before installation,please confirm the voltage connection and direction of the air flow are right.
3.Notice to be dustprof.It's best to install a silencer or speed control silencer in front of solenoid valve.
4.metal grain,dust and oil stain in pipes and fittings must be washed neatly before connected.Solenoid specifications
1.Allowable Voltage Range:±10%
2.Insulated Grade:Class B or Equivalent
3.Response Time:0.05Sec
Specification:
Valve type: 5 port 2 way5 port 3 way
Effective Cross Section Area: 50mm 2 (CV=2.79)30mm 2 (CV=1.68)
Port: sizeIn=Out=Exhaust=G1/2"
Working medium:Air(to be filtered by 40μ filter element)
Motion Type: Inner guide type
Working pressure:0.15~0.8MPa
Max. Test Pressure:1.2MPa
Max. Ambient Temperature:5~50 o C
Operating Voltage Tolerance: -10%~+10%
ProtectionIP65
NINGBO SMART PNEUMATICS' sprit:
we will give you the best quality, the competitive price, the quick delivery, the perfect service. Our goal to customers is "Always Smart Solution for your Automatic System."
Why choose us?


(1) Quality, we only produce top-level quality products, we promise that all of our product's raw material are first class, and good quality system controls, so our goods' quality is very good.

(2) Price, our policy is that "Win-to-Win". That means in view of our long-standing business relationships, we only take small profit to help you for the marketing.

(3) Delivery, we alway have some products in stock, so we can complete the delivery within the time stipulated before.

(4) No MOQ, I think it is an attractive condition to some of you who have no big demands for each items temporarily.