Model:
3A110-M5,3A120-M5,3A110-06,3A120-06,3A210-06,3A220-06,3A220-08,3A310-08,3A320-08,3A310-10,3A320-10
Model: 100 Series Solenoid Valve, Pneumatic Control Valve 3A110-06
Position and way NO.: 3/2 way
Effective area: 12mm2(CV=0.67)
Port size: Air inlet=Air outlet=Exhaust=G1/8″
Fluid: 40 micron filtered air
Operating pressure:0.15~0.8MPa
Max.proof pressure:1.2MPa
Temperature:-5~60 C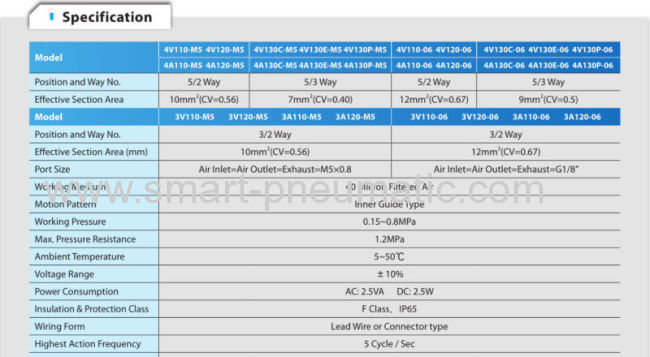 company frofile
Our company is specialized in manufactuing all kinds of valves,hydro-pneumatic components,alumium parts and plastic parts.Our main products are including pneumatic cylinder,solenoid valve,air filter,air regulator,air lubricator,pneumatic fitting,hydraulic fitting,tubes etc.as below;
*ISO Standard Cylinder:DNC/SI(ISO6431&6432)
*Standard Cylinder:SC/SU,
*Mini Cylinder:MAL,MA,,MI,CJ2B,CDM2B
*Compact Cylinder:SDA,CQ2
*Cylinder:CU,TN,STM,MGP
*Solenoid Valve:3v1,3v,4v,4M,3A,4A ,etc
*Air Source Treatment Unit:A,HA,HNA,T,A/B,etc
*pneumatic accessories:fitting,hand valve,muffler,tube,pressure switch
NINGBO SMART PNEUMATICS' sprit:
we will give you the best quality, the competitive price, the quick delivery, the perfect service. Our goal to customers is "Always Smart Solution for your Automatic System."