Pneumatic tube Product Description
1.Using on Pneumatic system
2.good bend capability,flexible,wear resistant
pneumatic tubings are in the pneumatic control,automated machinery.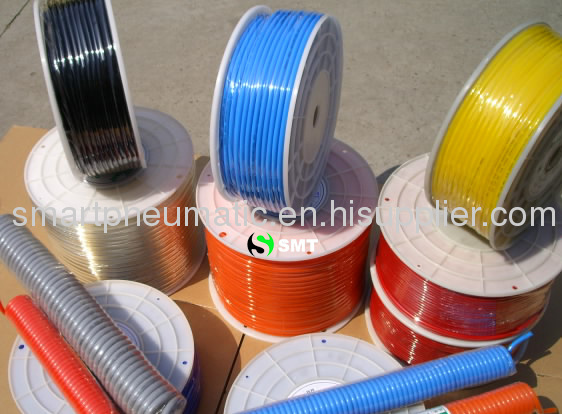 Pneumatic plastic tubing

Polyurethane tubing and polyamide tubing are widely used in the pneumatic system to transfer the pressure air power, they're not the most important pneumatic components in a pneumatic system, but they're necessary. Without polyurethane tubing (PU tube) and polyamide tubing (PA tube), the pneumatic system can't fit together. Smart Pneumatics & hydraulics provides polyurethane tubing (PU tube) and polyamide tubing (PA tube) in very good quality, precise, flexible, smooth, nice apperance, a very good solution for a complete pneumatic system.
The polyurethane tubing (PU tube) normally has blue, black, orange 3 color, there're other sizes like yellow, green, red, etc. For optional.
The Polyamide tubing (PA tube), also called nylon tube. Smart Pneumatics & hydraulics nylon tubing normally has two types, PA 12 and PA 11-6. The PA 12 is completely done by new material, PA 11-6 is a little mixed with second material, both are of very good quality.
Both PU tubing and nylon tubing has metric sizes are from 3x2 to 16x12, optional inch size from 5/32" to 1/2".
Specifications
O.D
Thickness
I.D
Wo rking Pressure (Mpa)
Explosive Pressure (Mpa)
Tensile Strength (Mpa)
Hardness (A)
(mm)
(mm)
(mm)
D4*2.5*200M
4
0.75
2 .5
1.0
15.5
60.0
95
D6*4*200M
6
1
4
D8*5*100M
8
1.5
5
D8*6*100M
8
1
6
D10*6.5*100M
10
1.75
6.5
D12*8*100M
12
2
8
D14*10*100M
14
2
10
D16*12*100M
16
2
12
D16*13*100M
16
1.5
13
D1/8*200M
1/8"
2
12
1.0
15.5
60.0
95
D1/4*200M
1/4"
1.5
15
D3/8*100M
3/8"
2
19
D1/2"*100M
1/2"
0.75
D3/16*200M
3/16"
1
D5/16*100M
5/16"
1
D5/32*200M
5/32"
1.5
OEM Offer:
Meanwhile, SMART Could also offer OEM service on Pneumatic Fittings, Pneumatic Push in Fittings, One Touch Tube Fittings with O-ring, Brass Push in Fittings, Compact One Touch Fittings, PU Tubing, Nylon Tubing, Flow Speed Controllers and Hand Valves.
Pls be free to contact with us for details.