Product Description * Air Filter/ regulator (F+R+L)
* RC (PT), G (PF) or NPT thread option;
* Port size: 1/8", 1/4", 3/8", 1/2";
* Easy to maintain and operate, long service life.


Model
AC2000-01/12
AC3010-02/03
AC4000-03/04
AC4010-06
AC5010-06/10
Port size G
1/8".1/4"
1/4".3/8"
3/8".1/2"
3/4"
3/4".1"
Pressure Gauge Size G
1/8"
1/4"
Working Medium
AIR
Pressure Range
0.05~0.85Mpa
Rate Flow(L/min)
500
1700
3000
3000
4000
applicable Temperature
-10~60 degree centigrade
Filter precision
standard:5um
Recommended Lurbicating Oil
ISO VG32
Type of valve
Overflow type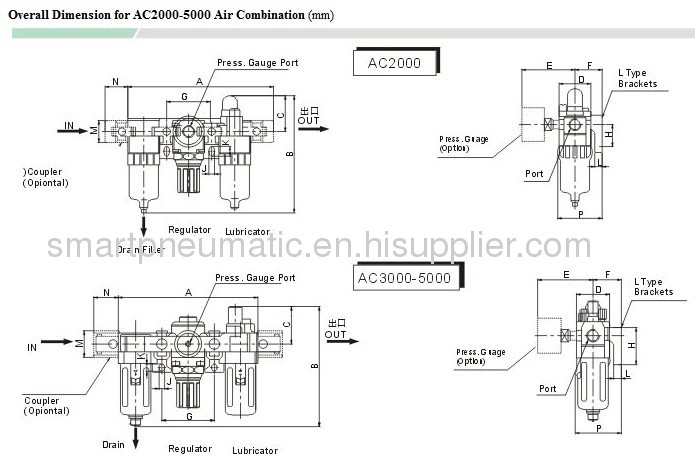 Pneumatic transmission system, air source treatment unit is refers to the air filter, relief pressure valve and oil mist eliminator, some brands of electromagnetic valve and the cylinder can be achieved without lubricating oil (grease lubricating function realized by), need not use oil sprayer! Filter degree is 50-75 μ m, voltage range of 0.5-10Mpa, such as the need of filtering precision is 5-10 μ m, 10-20 μ m, 25-40 μ m, and the voltage is 0.05-0.3Mpa, component 0.05-1Mpa three big no pipe connection and called triple pieces. The big three are the majority of pneumatic source device system is an indispensable, installed in the gas equipment nearby, is finally compressed air quality guarantee. The installation sequence of the big three according to the air inlet direction respectively, air filter, relief pressure valve and oil mist. Air filter and pressure relief valve are combined together can be called the two pneumatic component. Can also be air filter and pressure relief valve assembly together, will become the filtration pressure reducing valve (function and air filter and pressure relief valve used in combination.). In some cases cannot allow compression in the oil mist in the air, you need to use the oil mist separator will be compressed air oil mist filter. In short, these elements can be selected according to need, and they can be combined for use.
Air filter for air cleaning, filtering the compressed air in the water, avoid water enters the device with gas.
The valve can be regulated for air, the air in the steady state, can be reduced because of gas pressure mutation when the valve or actuator hardware damage. Filter for air cleaning, filtering the compressed air in the water, to prevent water from entering the device with gas.
Oil mist lubrication of the moving parts of lubrication, can be inconvenient for lubricating parts, greatly extending the life of the body.
Attention:
1. We have special departments to ensure that no strict quality control any quality problem before delivery.
2. 2.Carefully check goods size table and product specifications. Please check detail with customer service before buying .
3. 3. Receiving or take the goods, please sign the bill after the first inspection, if have damaged items, or a few goods phenomenon, please do not sign, the first contact with the customer details and make logistics company personnel or personnel in proof of delivery after processing, or receipt of any problems after the Seller shall not be held responsible.
The information about our company:
NINGBO SMART PNEUMATIC CO LTD is specialized in manufacturing all kinds of hydro pneumatic components, aluminum parts and plastic parts. Our main products are including pneumatic cylinder, (air cylinder), solenoid valve, air filter, air regulator, air lubricator,pneumatic fitting, hydraulic fitting, tubes, muffler (silencer) etc

NINGBO SMART PNEUMATICS' sprit:
we will give you the best quality, the competitive price, the quick delivery, the perfect service. Our goal to customers is "Always Smart Solution for your Automatic System."

NINGBO SMART PNEUMATIC hopes to work together with you, developing in parallel!