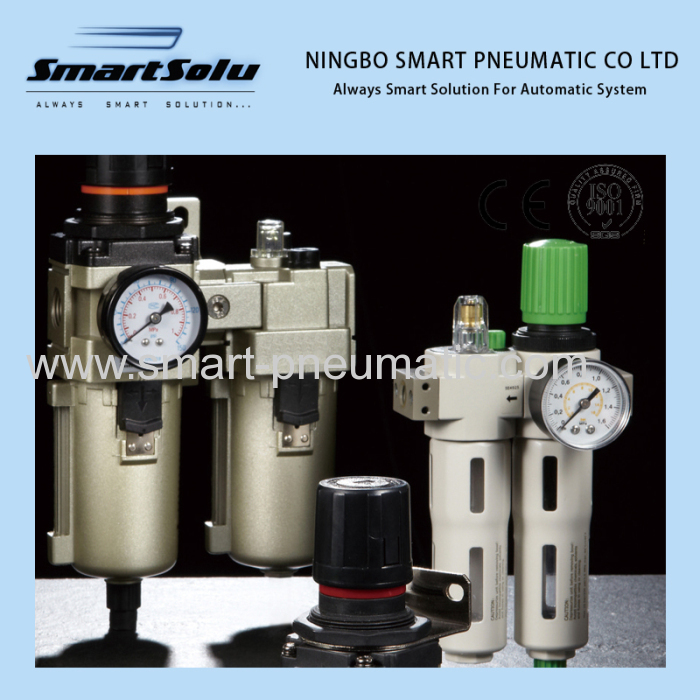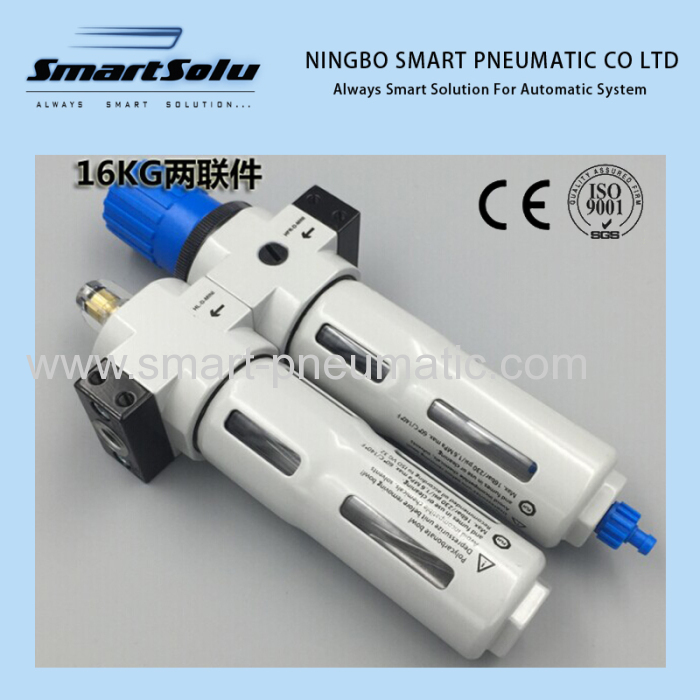 Product Description
The OU consisted of OFR and OL, each unit can be ordered separately.
The OF with water separator cleans the compressed air of fluid oil, condensation and dirt. Particles. For
special applicaton, the standard 40pm filter element may easily be replaced by a 5pm filter element.
The OR maintain imputting constant operating pressure despite fluctuation in line pressure and the
amount of air consumed. The proportional lubrecator adds a regulated quantity of oil to the filtered air
The oilmist content proportional to the flow and oil can be added during operation. The oil drip rate is
controlled by the adjustable bolt. Normally, 1 to 12 drops/1000L of the air is suffcient.
Specification
Service Units
MINI
MIDI
MAXI
Manual
Drain
Working Pressure:
12bar,40um
OU-1/8-MIN
OU-1/4-MIN
OU-3/8-MIN
OU-3/8-MIDI
OU-1/2-MIDI
OU-3/4-MIDI
OU-3/4-MAXI
OU-1-MAXI
Working Pressure:
7bar,40um
OU-1/8-7-MIN
OU-1/4-D-7-MIN
OU-3/8-7-MIN
OU-3/8-7-MIDI
OU-1/2-7-MIDI
OU-3/4-7-MIDI
OU-3/4-7-MAXI
OU-1-7-MAXI
Working Pressure:
12bar,um
OU-1/8-5M-MIN
OU-1/4-5M-MIN
OU-3/8-5M-MIN
OU-3/8-5M-MIDI
OU-1/2-5M-MIDI
OU-3/4-5M-MIDI
OU-3/4-5M-MAXI
OU-1-5M-MAXI
Manometer
0~12bar
OMA-40-16-1/8
OMA-50-16-1/4
0~7bar
OMA-40-10-1/8
OMA-50-10-1/4
Working Medium
Comprssed Air
Features of Structure
Sintered Filter With Water Sparator,Direct Constant-density Lubricator
MINI/MIDI: Diaphragm Type Regulator; MAXI:Piston Regulator
Mounting Type
Pipe/Foot mounting
Assembly Position
Vertical±5°
Connection
G1/8"
G1/4"
G3/8"
G3/8"
G1/2"
G3/4"
G3/4"
G1"
Standard
Nominal
Flow Rate
OU-...(-A)
700
1000
1200
2000
2600
2600
7000
8000
OU-...-7-(-A)
800
1300
1500
2500
2800
2800
8500
8700
OU-...-5M-(-A)
600
850
1050
1700
1800
2100
6500
7200
Primary
Pressure
Manual Drain
1~16bar
Automatic Drain
1.5~12
Working Pressure
0.5~12bair/0.5~7bar
Min.Standard Nominal Flow Rate
3L/min
6L/min
10L/min
Grade of Filtration
40um/50um
Capacity of Condensate Fluid
22ml
43ml
80ml
Temperature Range
0~60ºC
Materials Information
Housing: Zinc Die-casting;Filter Bowl:PC;Meta Bowl Guard: Aluminium alloy; Sealing:NBR; Adjusting Knob:POM
Why choose us?


(1) Quality, we only produce top-level quality products, we promise that all of our product's raw material are first class, and good quality system controls, so our goods' quality is very good.

(2) Price, our policy is that "Win-to-Win". That means in view of our long-standing business relationships, we only take small profit to help you for the marketing.

(3) Delivery, we alway have some products in stock, so we can complete the delivery within the time stipulated before.

(4) No MOQ, I think it is an attractive condition to some of you who have no big demands for each items temporarily.