Product Description
1. The pipe joint fittings can be used with rigid nylon tubes.
2. A locking nut is provided and can be tightened both manually and with a spanner.
3. The special shape of the guiding cone ensures that the tube can not be accidentally cut.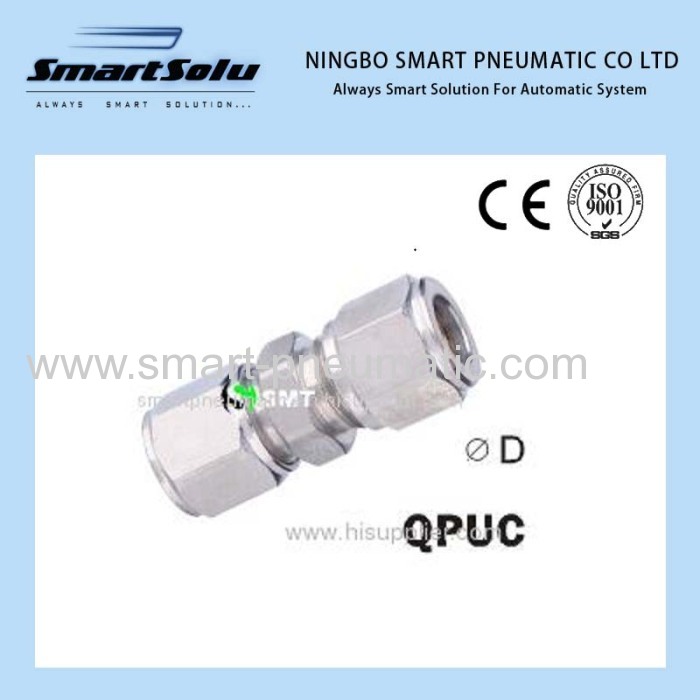 Tube(Metric)

Part #

øD(mm)

QPUC 04

4

QPUC 06

6

QPUC 08

8

QPUC 10

10

QPUC 12

12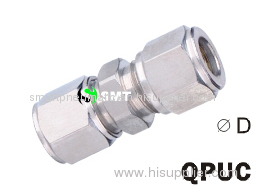 The information about our company:
Our company is specialized in manufactuing all kinds of valves,hydro-pneumatic components,alumium parts and plastic parts.Our main products are including pneumatic cylinder,solenoid valve,air filter,air regulator,air lubricator,pneumatic fitting,hydraulic fitting,tubes etc.as below;
*ISO Standard Cylinder:DNC/SI(ISO6431&6432)
*Standard Cylinder:SC/SU,
*Mini Cylinder:MAL,MA,,MI,CJ2B,CDM2B
*Compact Cylinder:SDA,CQ2
*Cylinder:CU,TN,STM,MGP
*Solenoid Valve:3v1,3v,4v,4M,3A,4A ,etc
*Air Source Treatment Unit:A,HA,HNA,T,A/B,etc
*pneumatic accessories:fitting,hand valve,muffler,tube,pressure switch
NINGBO SMART PNEUMATICS' sprit:

we will give you the best quality, the competitive price, the quick delivery, the perfect service. Our goal to customers is "Always Smart Solution for your Automatic System."

NINGBO SMART PNEUMATIC hopes to work together with you, developing in parallel!
Attention:
1.We have special departments to ensure that no strict quality control any quality problem before delivery.
2.Carefully check goods size table and product specifications. Please check detail with customer service before buying
3.Receiving or take the goods, please sign the bill after the first inspection, if have damaged items, or a few goods phenomenon, please do not sign, the first contact with the customer details and make logistics company personnel or personnel in proof of delivery after processing, or receipt of any problems after the Seller shall not be held responsible.
WHY CHOOSE US?


(1) Quality, we only produce top-level quality products, we promise that all of our product's raw material are first class, and good quality system controls, so our goods' quality is very good.

(2) Price, our policy is that "Win-to-Win". That means in view of our long-standing business relationships, we only take small profit to help you for the marketing.

(3) Delivery, we alway have some products in stock, so we can complete the delivery within the time stipulated before.

(4) No MOQ, I think it is an attractive condition to some of you who have no big demands for each items temporarily.