Characteristic :1.Pilot operated piston construction with lower power consumption
2.Seal serves longtime at steam ambient;
3.Used for long-time working in pipeline system.
Medium : Steam, Hot Water, Oil, etc.
Temperature: PTFE:-20℃ ~ 200℃
VITON: -10℃ ~ 120℃
Pressure: 0.05 ~ 1.60MPa
Body: Brass or Stainless Steel SUS304
Port Size: 3/8″/2″/4″″1/4″1/2″″
Port Thread: BSPP ,BSPT ,NPT ,Flange, UNF
Orifice (mm): DN 15 (,25FF F(F
Voltage: DC: 12V, 24V
AC : 220/230V, 110/120V, 24V (50/60HZ)
Coils : S21H, 22VA(AC), 15W(DC), IP65,100%ED
Material:
Body - Stainless Steel
Seal -PTFE or VITON
Armature Tube - Stainless Steel 304
Plunger - Stainless Steel 430F
Stop -SS430F
Springs - SS 304
Shading Rings - Stainless Steel 304


NINGBO SMART PNEUMATICS' sprit:
we will give you the best quality, the competitive price, the quick delivery, the perfect service. Our goal to customers is "Always Smart Solution for your Automatic System."
Type

SLP-10B

SLP-15B

SLP-20B

SLP-25B

SLP-32B

SLP-40B

SLP-50B

Acting type:

Normal CLose

Position number:

2-Position 2- way

Port sizes:

3/8"

1/2"

3/4"

1"

11/4"

11/2"

2"

Fluid:

Air, gas, oil,

Pressure:

0.5 to 16 bar

Max Pressure:

20 Bar

Temperature:

5 to 60( NBR) -5 to 120 (VITON)

Voltage:

10%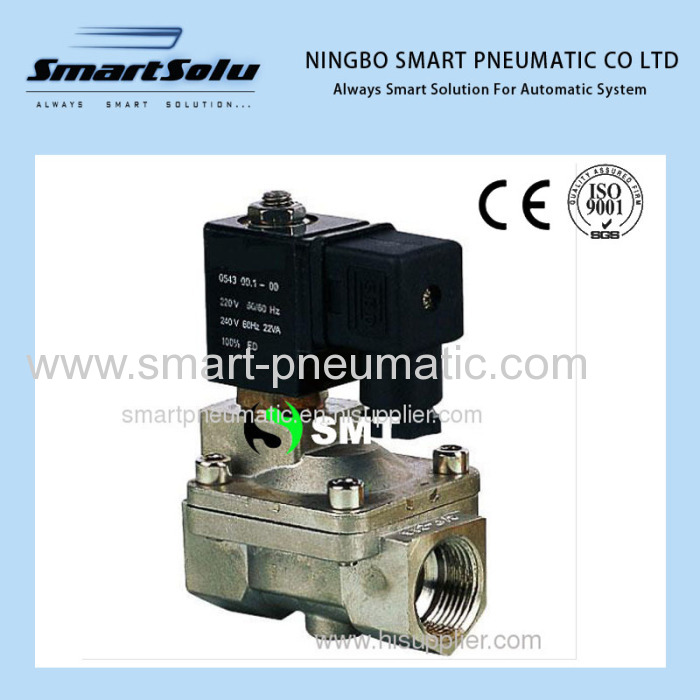 Why choose us?


(1) Quality, we only produce top-level quality products, we promise that all of our product's raw material are first class, and good quality system controls, so our goods' quality is very good.

(2) Price, our policy is that "Win-to-Win". That means in view of our long-standing business relationships, we only take small profit to help you for the marketing.

(3) Delivery, we alway have some products in stock, so we can complete the delivery within the time stipulated before.

(4) No MOQ, I think it is an attractive condition to some of you who have no big demands for each items temporarily.