Product Description
1. Transparent pneumatic fittings
2. O to 25 Bar pressure
3. Fit for water and air medium
4. Very good quality and fast delivery date
Pneumatic Fitting Applications:
*One touch type connection tool for air pressure piping.
*Various uses depending on the user's environment.

One Tuch Fitting Features:
*One-Touch push-to-connect configuration allows an instant tubing connection.
*Smooth-Edge release sleeve design facilitates a quick tubing disconnection
*Aesthetically pleasing nickel-plated metallic optional feature ensures anti-containation
properties of an extended product lift.
*Pre-applied sealant on all external threads eliminates the additional sealing requirement.
*Internal and/or external flat-to&flat hexagonal configurations for both metric and inch specifications
allow a proper tightening or directional orientation upon installation by using L key or allen wrench
for the applicable model types.

Plastic Fitting Specifications:
*Fluid Type: Air(No other gases or liquids)
*Working Pressure:0-150Psi
*Negative pressure: -29.5 in Hg
*Working temperature:32 -140°F / 0-60℃
*Applicable Tube:Polyurethane,Polyethylene and Nylon
It is applied to the quick connecting of PE pipe and stainless steel pipe.
Excellent performance and reasonable price.
Fluid Type Air and Water
Working Pressure 0-10 Bar
Temperature 0-80 C degree.
company frofile
Our company is specialized in manufactuing all kinds of valves,hydro-pneumatic components,alumium parts and plastic parts.Our main products are including pneumatic cylinder,solenoid valve,air filter,air regulator,air lubricator,pneumatic fitting,hydraulic fitting,tubes etc.as below;

*ISO Standard Cylinder:DNC/SI(ISO6431&6432)
*Standard Cylinder:SC/SU,
*Mini Cylinder:MAL,MA,,MI,CJ2B,CDM2B
*Compact Cylinder:SDA,CQ2
*Cylinder:CU,TN,STM,MGP
*Solenoid Valve:3v1,3v,4v,4M,3A,4A ,etc
*Air Source Treatment Unit:A,HA,HNA,T,A/B,etc
*pneumatic accessories:fitting,hand valve,muffler,tube,pressure switch
NINGBO SMART PNEUMATICS' sprit:
we will give you the best quality, the competitive price, the quick delivery, the perfect service. Our goal to customers is "Always Smart Solution for your Automatic System."

Packing For The Pneumatic Fitting: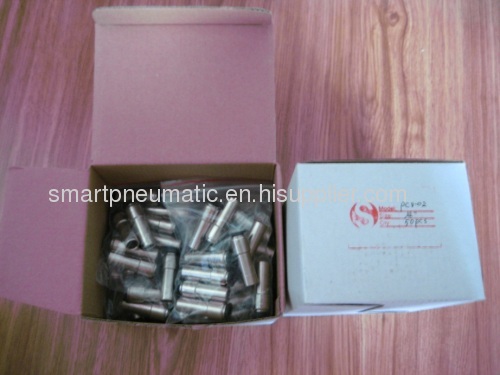 OEM Offer:
Meanwhile, SMART Could also offer OEM service on Pneumatic Fittings, Pneumatic Push in Fittings, One Touch Tube Fittings with O-ring, Brass Push in Fittings, Compact One Touch Fittings, PU Tubing, Nylon Tubing, Flow Speed Controllers and Hand Valves.
Pls be free to contact with us for details.