A.High Quality Tie Rod oil cylinder series.
Professional and thorough analysis and design to all kinds of oil cylinder through High-tech means
B.Unique production process and management methods
C.Imported cushion,sealing element,oil pipe and other components
D.Holds Many Patents,High quality, high reliability, high service life.

STRUCTURE AND MATERIALS
Gland
-- High grade ductile iron
Piston
-- High grade precisely machined ductile iron
Tube
-- Cold Drawn tubing with precision skived
Piston seal
-- O-ring supported by Teflon coating
Tube Seal
-- O-Ring with anti-extrusion backup washer
Piston Wear Ring (3T )
-- Glass fiber with nylon(only for 3T series)
Tie rod
-- High tense steel
Rod wiper
-- Metal encased NBR
Rod
-- Chrome Plated C1045 Steel
Rod Seal
-- Polyurethane U-Cup
Rod clevis
-- Ductile iron
Ports
-- NPTF for 2T, SAE ORB for 3T
End caps
-- C1045 Steel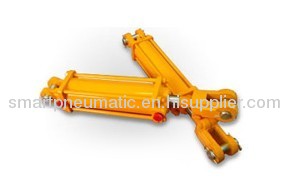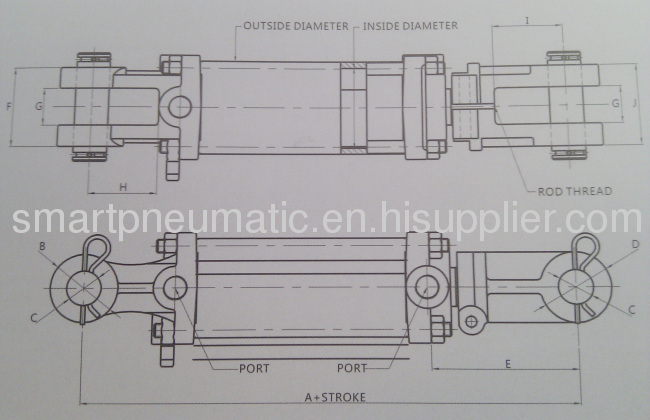 We have technology terms and can design drawing according to provided information for your review.
We are solding our products to nearly the whole global.
Appreciate for your kind help, we will be able to offer you the correct and exact quotation as soon as we got
your inquiry.Thank you!

We are China Oil Cylinder manufacturer offer best Oil Cylinder OEM, ODM,service.

Company Profile
Our company is specialized in manufactuing all kinds of valves,hydro-pneumatic components,alumium parts and plastic parts.Our main products are including pneumatic cylinder,solenoid valve,air filter,air regulator,air lubricator,pneumatic fitting,hydraulic fitting,tubes etc.as below:
*ISO Standard Cylinder:DNC/SI(ISO6431&6432)
*Standard Cylinder:SC/SU,
*Mini Cylinder:MAL,MA,,MI,CJ2B,CDM2B
*Compact Cylinder:SDA,CQ2
*Cylinder:CU,TN,STM,MGP
*Solenoid Valve:3v1,3v,4v,4M,3A,4A ,etc
*Air Source Treatment Unit:A,HA,HNA,T,A/B,etc
*pneumatic accessories:fitting,hand valve,muffler,tube,pressure switch
NINGBO SMART PNEUMATICS' sprit:
we will give you the best quality, the competitive price, the quick delivery, the perfect service. Our goal to customers is "Always Smart Solution for your Automatic System."