Product Desciption
2W (UD) Series Solenoid Valve
2W: Two Position Two Way solenoid valve (Direct Drive Type)
2WH: Two Position Two Way solenoid valve(High Pressure Direct Drive Type)

2-position & 2-way solenoid valves are switch element in the Modern industrial pipeline. The automatic control of all kinds of media such as air, water, steam, oil, weak acid & alkali ect. In the system is accomplished by using the force of electromagnetism and differential pressure of medium.
2W025 solenoid valve

Characteristic : 1.Direct acting miniature construction at low power consumption
2.Compact design to save the space
3.Applied to low pressure system, open from 0 bar
Medium : Air, Water, Steam, Oil, etc


2W025 solenoid valve specifications:

ItemType

2W025-06

2W025-08

2W040-10

2WH012-06

2WH012-08

2WH012-10




Fluid

Air,Water,Oil,Gas

Acting

Direct acting




Type

Normally closed

Orifice size(mm)

2.5

4

1.2

2




CV value

0.23

0.60

0.05

0.15




Port size

1/8"

1/4"

3/8"

1/8"

1/4"

3/8"




Viscosity limit

Under 20CST

Pressure range

Air,Water,Oil,Gas:0~0.7MPa

Air,Water,Oil:0~2.0MPa




Max.pressure

1.0MPa

3.5MPa




Temperature

-5~80oC

Voltage range

-10%~+10%

Material of body

Brass




Seal material

NBR,EPDM or VITON

2W025 Solenoid valve package: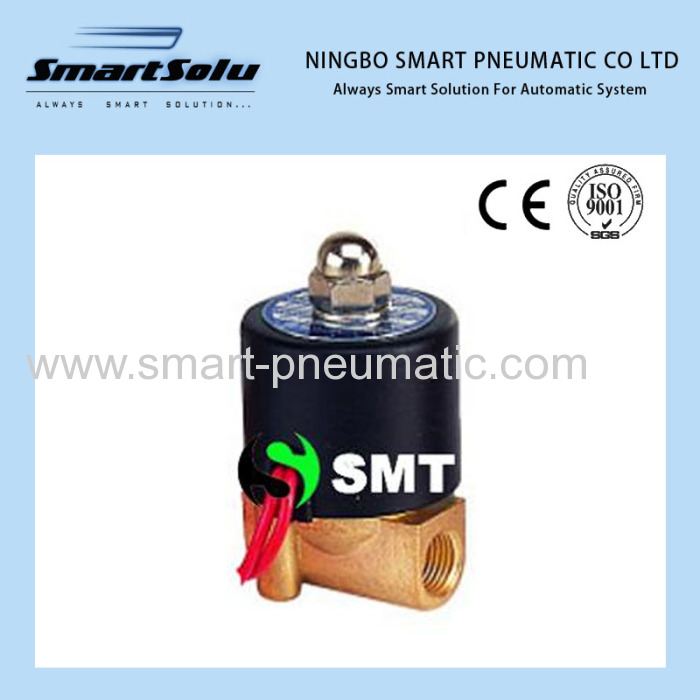 NINGBO SMART PNEUMATICS' sprit:
we will give you the best quality, the competitive price, the quick delivery, the perfect service. Our goal to customers is "Always Smart Solution for your Automatic System."
Why choose us?


(1) Quality, we only produce top-level quality products, we promise that all of our product's raw material are first class, and good quality system controls, so our goods' quality is very good.

(2) Price, our policy is that "Win-to-Win". That means in view of our long-standing business relationships, we only take small profit to help you for the marketing.

(3) Delivery, we alway have some products in stock, so we can complete the delivery within the time stipulated before.

(4) No MOQ, I think it is an attractive condition to some of you who have no big demands for each items temporarily.